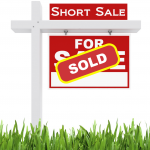 The term "short sale" describes a real estate transaction in which a lender agrees to receive a discounted payoff from a borrower. This takes place when the borrower owes more on the home than it is currently worth in today's market.
The Borrower's Benefits
First of all, your home is sold!There are however also many other benefits.

A short sale is free to you! We will charge you no fees throughout the entire process. The bank will pay all of your closing costs which includes our commission.

Many programs pay $3,000-$20,000 BACK to home owners to complete a short sale.

Foreclosure is avoided when a home goes through the short sale process. This is a great relief to your credit and allows you to qualify for future loans much more quickly.

We will work hard with your lender and try to ensure you are completely forgiven of the remaining deficiency after the sale. This means they would forfeit their right to ever pursue a deficiency judgment for the debt. The debt would typically no longer exist!  Lenders rarely ask part of the deficiency be repaid to them.


Unlike a foreclosure, A short sale shows up on your credit as "Paid as Negotiated" or "Settled in Full" just like any other debt that was paid off.
 The Lender's Benefits
The foreclosure process costs a lender $58,000 on average.

Too many foreclosures looks bad to a lender's investors, harming their reputation.

Some government sponsored programs, such as HAFA, offer incentives to lenders and servicers for cooperating in the short sale process.

After a property is foreclosed on, the lender becomes somewhat of a property manager, wasting their time, effort, and money.
It is for these reasons that a short sale is usually in a lender's best interest. In fact, if you mention a short sale to your lender they would probably be more than happy to work through the process, as opposed to foreclosing on your property.
Hardships

In order to qualify for a short sale in Jacksonville, FL, a borrower
must prove to their lender that they are in a financial hardship.
This could include:
Loss/reduction in income

Job loss

Divorce


Increased living expenses

Vacant rental properties

Relocation or job transfer

Medical bills/illnesses


Death in the family

Lack of resources to make
needed major repairs
Getting Started
First, give us a call! Explain your situation to us and we will explain the Jacksonville short sale process more in depth to you, as well as determine whether or not this may be your best option. You will also be informed of programs that can provide you with incentives and benefits.
If it is determined that a short sale is your best option, we will provide you with all of the forms that will need to be sent in to your lender in order to get the process started. My team and I will walk you through the entire process as well as handle all of the work with your lender to get the transaction completed.
Let us help you!
904-733-4911